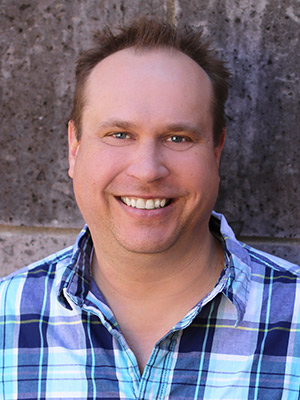 Dr. Jacob Youmans
Director of DCE Program at Concordia University in Austin, Texas
Dr. Jacob Youmans has served as the Director of the DCE (Director of Christian Education) program at Concordia University Texas, since 2009. Prior to that, has served as a Youth and Family Minister in Hawaii and California. Jake has led and served on mission teams to every continent except Antarctica. He has authored four books and is a popular and engaging conference speaker. Most importantly, he's married to Christy, a teacher, artist and musician, and has two princesses -- Maile (14) and Leilani (12).
▲ Top
Books by Dr. Youmans
▲ Top
Concordia University Texas
Since 2009 Dr. Jacob Youmans has served as Director of the DCE (Director of Christian Education) program at Concordia University Texas. His role there involves both teaching in practical theology and ministry preparation, and administering an internship program where students are sent all over the country and around the world to serve as Children/Youth/Family Ministers, missionaries, and worship leaders- to name a few of the roles that alumni have served in. Supervising these interns keeps Dr. Youmans on the road about half of the time, but exploring and interacting with so many different ministries also blesses him tremendously in the classroom. If you have ever thought about going into professional ministry, you need to talk to Dr. Youmans!
▲ Top
Mission Trips
My passions in ministry are helping people realize and use their gifts, and to find creative ways to share the love of Jesus. I have been blessed to serve on mission trips literally all over the world. I've visited and worked with missionaries on every continent except Antarctica!
By God's grace I've been on mission trips to Alaska, Apache Nation in Arizona, Brazil, Canada, Egypt, El Salvador, Germany, Hawaii, Mexico New Zealand, Thailand, and Tunisia.
In 2018, I will be taking a sabbatical from my teaching at Concordia Texas to continue to explore the strategies and techniques of missionaries all over the world, as well as to actively participate in their mission with my family. Read more about our upcoming Youmans Family Mission Adventure.
▲ Top
Biography
I'm a "nomad" who has never lived in the same house for more than five years. Both of my parents are Lutheran church workers and we moved around the country from adventure to adventure. I am the oldest of four siblings, and so I developed the art of leading and motivating others at a very early age.
I was born in Winona, Minnesota, and then at the ripe old age of 2 moved to Richfield, Minnesota outside of the Twin Cities. Later we packed up and moved to Cleveland, Ohio. (Go Browns!) After five years in Cleveland, and five losing seasons for the Cleveland Indians, we moved to Van Nuys, California, eventually settling into Sepulveda, CA. I started high school at Los Angeles Lutheran High School, but after one year we moved to Las Vegas, Nevada - yes, Las Vegas, where my parent still live.
After three years at Las Vegas Lutheran High School, I headed off to Concordia University, Irvine, California, and graduated in 1997 with a degree in Religious Studies. In 2003 I finished my masters in Family Life Ministry at Concordia University Seward, Nebraska. Then In 2008, I completed a doctoral program through George Fox University in Portland, Oregon, in Leadership in the Emerging Culture. The funny thing is that I stopped going to school just as my oldest daughter started Kindergarten. Ah, the circle of life!
April 8th, 1997 was one of the most important days in my life. On that day, I found out that my DCE internship would be at Our Savior Lutheran Church in Aiea, Hawaii, and on the same day I decided to ask my college sweetheart, Christy Lemon, to spend the rest of her life with me. How could she say no? We were moving to Hawaii! Christy is an artist and a musician. So without sounding too cutesy- with me being color blind- she literally does complete me! Christy and I were married on June 20th, 1998. After four amazing years in Hawaii, we felt the Holy Spirit leading us to St. Paul's Lutheran Church in Orange, California. We are living proof there is a God, because no one leaves Hawaii unless God tells them to! During our eight years at St. Paul's, I served as the High School Youth Minister and Family Minister. Also during our time there, our family doubled in size with the addition of Maile Ann in 2003, and Leilani Mei in 2004. Back-to-back tax breaks! I am now hopelessly outnumbered by girls, but am having a blast being a father. There is nothing like coming home and having two little human beings run as fast as they can toward you while screaming "Daddy!"
In 2009, I started serving as a professor and Director of the DCE (Director of Christian Education) Program at Concordia University Texas in Austin. The move from the parish to higher education has been a good experience- but a very different one. I absolutely loved my time serving a congregation, but I am excited and honored to be training future church workers.
I love writing, and especially speaking. I have been privileged to speak at churches and gatherings all over the country, and even a few locations internationally. It is such an blessing to bring God's love and hope in an energetic way. It's humbling to be on stage, but I cherish the opportunity to glorify God in this way.